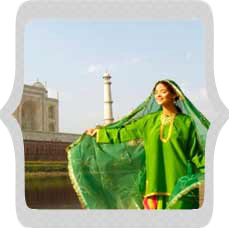 Many of you would have heard stories about Taj coming alive under the full moon sky as if descended right from some spiritual realm, and that is exactly the case, no doubt! But Taj Mahal is one paradisal beauty personified! That means, whether it's the soft pink color at the break of dawn or the fiery yellow color it reflects at the brink of dusk, it's a sight to behold and is well worth a standalone experience; not to be compared with the pristine white radiance with which it sparkles at night. What's more, while at night visitors are allowed only for half hour duration; they can take as much time as they want to adore the spectacular Taj, right from sunrise to sunset during the day. And there's so much to observe and marvel at that rest assured, even a whole day would seem to pass by in no time. Since there is no limit on the time you may spend at the Taj on a single visit, you may remain here the entire day and let your eyes soak the splendor of the Taj.
Still photography is allowed inside the premises for free, except for inside the main mausoleum. Video making is allowed up to a certain area for Rs 25 per video camera. However, professional video making or shooting inside the complex is strictly prohibited unless prior permission is taken from the office of Archeological Survey of India located at 22, Mall Road, Agra. Mobiles phones are allowed inside the complex but are to be kept in the switched off mode. Visitors are also advised to go through the list of Do's and Don'ts before entering the complex. Tourists can purchase the tickets from near the western and eastern gate, where they are available from sunrise to sunset or from the southern gate, where they are available from 8 AM to 5 PM.
Facilities like cloak room at all the three gates, drinking water at eastern and western gates, public restroom on both sides of the main entrance, and a video locker room inside the main entrance where visitors can safely keep their video camcorders after shooting are available. Agra is one of the most important centers for handicrafts, especially of marble inlay work. Visitors who're interested in some serious shopping or even souvenir buying can engage themselves in the nearby markets of the Taj complex or Shilphaat in Shilpgram located just 750 meters away from the eastern gate of Taj Mahal. Here, visitors can buy authentic wares at reasonable prices. The Taj complex even has a museum that is open from 10 AM to 5 PM, the ticket of which can be purchased at the museum or the booking counter. With all this in place, and most importantly, the stupendous view of the Taj Mahal in the vicinity, it'll be a day to remember. Come and spend the day at Taj Mahal!