India heritage tour covers the erstwhile royal cities of Neemrana, Jaipur and Mandawa.
India Heritage Tour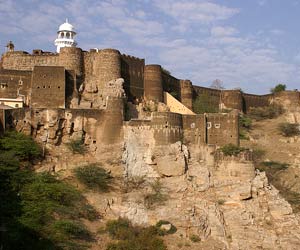 Destination:
Delhi - Neemrana - Samode - Jaipur - Roopangarh - Kuchaman - Mandawa
Duration:
9 Days/ 8 Nights
Day 01: Delhi
As soon as you reach the Indira Gandhi International Airport at Delhi you will be welcomed by our representatives in a traditional Indian style, after which they will help you with the airport formalities. After the airport formalities you will be escorted to a hotel where you can layback and relax. You will be staying at the hotel overnight
Day 02: Delhi - Neemrana
The day is reserved for an explicit tour of the capital of India. The tour will include Laxmi Narayan Temple which is a Hindu temple, India Gate which is a war Memorial for the soldiers who lost there lives in World War I, the Parliament House etc. Later you will be driven to Neemrana which once was a capital of the Chauhan Clan. As you arrive at Neemrana you will check in at Neemrana Fort Palace which is a place which reflects the history as well as tradition of Modern India.
Day 03: Neemrana - Samode
In morning after the breakfast you will be driven to Samode where you will check in to Samode Haveli. The Samode Haveli is one of the finest heritage hotels in India, with walls of Sultan Mahal covered with paintings, the dining hall with tainted windows and Darbar Hall with beautifully painted walls and intricately carved ceiling. You can visit places around Samode Palace like Samode Fort, Samode Bagh etc. Later you will drive to Kishenagrh where you will check in to Phoolmahal Palace. You will spend the night at Phoolmahal Palace.
Day 04: Samode - Jaipur
After breakfast you will be driven to Jaipur. You will be received by our representative at Jaipur who will help you in checking in a hotel. Jaipur is one of the major cities of Rajasthan, founded by the great astrologer Raja Jai Singh II. Jaipur is also called the Pink City because most of the buildings in Jaipur are painted pink, as according to the Rajput tradition, pink is the color of hospitality.
Day 05: Jaipur
In the morning after breakfast you will be taken on an excursion to the Amber Fort on an elephant back painted with folk Rajasthani patterns, as it used to be in the times of the Rajput rulers. Later you will be taken on a city tour covering the City Palace which is a blend of Rajasthani and Mughal Architecture with series of courtyards and gardens, Royal Observatory, Nawab Sahab Ki Haveli and local flea markets etc. You will stay overnight at the hotel.
Day 06: Jaipur - Roopangarh
You will be driven to Roopangarh, which is a heritage site popular among the tourists for its state-of-art architecture combined with Rajput art and craftsmanship. The town and fort of Roopangarh was constructed by Maharaja Roop Singh of Kishangarh for defending his kingdom. You would be accommodated at the Roopangarh Fort itself, so that you can feel the grandeur and culture on first-hand basis. You will be staying overnight at the Roopangarh Fort.
Day 07: Roopangarh - Kuchaman
After a grand breakfast at the Roopangarh Fort, you can go out for a stroll in the city, to explore the lifestyle, music, craft and culture of the people in the city. Later during the day, you will be driven to Kuchaman where you will be accommodated at the Kuchaman Fort. After relaxing for a while at the Fort you can visit and explore the Kuchaman city and Fort.
Day 08: Kuchaman - Mandawa
This morning is totally at your own discern, either you can relax and leisure around or can enjoy the indoor recreational activities offered by the heritage hotel. Later, you will be driven to Mandawa which is a small town of the Shekhavati region. At arrival, you will be checked in to a hotel where after relaxing for a while you will be visiting havelis so you can admire the beautiful frescoes on the walls of these havelis. You will be staying at the hotel overnight.
Day 09: Mandawa - Delhi
After having breakfast at the hotel you will be driven back to Delhi where our representative will help you check in to a hotel. You can freshen up and relax for a while here. Later you will be driven to Delhi International Airport from where you will board a flight to your respective destinations.