Explore the elegance of the wonderful Taj Mahal, and other Muhgal heritage sites in Agra, accompanied by an English speaking tour guide.
Escorted Tour of Taj Mahal with English Speaking Guide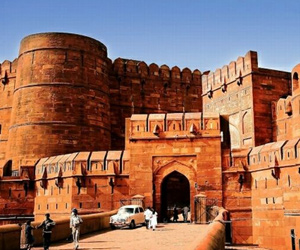 Visit and admire Agra, the beautiful city of the Mughal rulers, while enjoying the comfort of a private car and driver, along with an English-speaking guide. You will be greeted and picked up by our driver from Delhi at 6 AM. Thereafter, you will go on a 4-hour drive towards Agra, to witness the world famous Taj Mahal as well as other important monuments and heritage sites.
Itinerary at a Glance:
06:00 AM: Drive from Delhi to Agra
10:00 AM: Visit to Sikandra
11:00 AM: Visit to Red Fort
01:00 PM: Time Free for Lunch
02:00 PM: Visit to Taj Mahal
05:00 PM: Drive back to Delhi
09:30 PM: Arrive Delhi
Sikandra:
Sikandra is a suburb of Agra - located at a distance of about 10 km from the city center, on the western border of the city. The place is renowned for the Tomb of Akbar the Great - the third Mughal Emperor. The tomb is built in red sandstone and white marbles, and is brilliantly decorated with geometric, floral, calligraphic and prefigure panel designs, depicting the personality of the great emperor. It is also inscribed with 99 names of Allah. The tomb's construction was started by Akbar himself but his son Jahangir completed it.
Taj Mahal:
The Taj Mahal, a saga of eternal love, is one of the wonders of the world. Located on the bank of River Yamuna at Agra, this Mughal architectural masterpiece is also a UNESCO World Heritage Site. The Taj was constructed by Mughal Emperor Shah Jahan in memory of his loving wife Mumtaz Mahal. This graceful monument is marvelously crafted with white marble, while blending the essence of Indian, Turskish, Islamic and Persian architectural styles. Being one of the finest and most beautiful creations of the Mughal era, the Taj Mahal appeases everyone's heart with its astonishing charm.
Agra Fort:
Agra Fort, also known as Red Fort, is a grand palatial structure, situated 2.5 km away from the Taj Mahal in Agra. This UNESCO World Heritage Site reflects the versatility of Mughal culture and architecture. After making Agra his capital, Akbar constructed Agra Fort, which took about eight years to complete. The Fort is built of red sandstone and is beautified with pietra dura in white marble. With its four huge gates and walls as high as 70-feet, the fort is more like a walled city, and comprises of numerous magnificent structures and sites, such as Khas Mahal - a white marble palace with impressive paintings, Sheesh Mahal - a regal dressing room with exquisite mirror-like glass-mosaic decor, Nagina Masjid - a mosque specially built for the ladies of the court, Diwan-i-Khas, Jahangiri Mahal, Meena Bazar, Shahi Burj, etc.