This tour package takes you through the culturally similar regions of Rajasthan and Gujarat.
Rajasthan and Gujarat Tour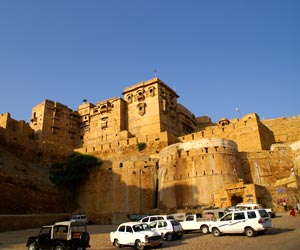 Destination:
Delhi - Agra - Jaipur - Pushkar - Bikaner - Jaisalmer - Jodhpur - Udaipur - Ahmedabad - Palitana - Diu - Somnath - Sasan - Gondal - Bhuj - Mumbai
Duration:
20 Days/19 Nights
Day 01: Delhi
As you arrive in Delhi, you will be welcomed by our representatives in a traditional Indian way at the airport, after which you will be escorted to a hotel where you can settle your luggage. Take rest for sometime and get ready for you would be taken to a combined tour of Old and New Delhi visiting interesting places like Red Fort, Jama Masjid, Shanti Van, Humayun Tomb, President House and India Gate.
Day 02: Delhi - Agra
You'll be driven 210 kms away from Delhi to Agra, the city of Taj. At Agra, first place to visit will be Sikandara Fort, the resting place of Emperor Akbar. This will be followed by a visit to the Taj Mahal, a monument which reminds one of eternal love as it was built by Shah Jahan in memory of his beloved wife Mumtaj Mahal. Standing at the bank of river Yamuna, the enigmatic and captivating beauty of the memorial is sure to forward you a standalone experience. Apart from Taj, you will also visit other monuments such as Agra Fort and Itmad-ud Daulah's Tomb.
Day 03: Agra - Jaipur
In the morning, you will be visiting Fatehpur Sikri. Later you will be driven to Jaipur which is 240 kms away from Agra, situated at the edge of the Great Indian Desert and thus, at times called the gateway to Rajasthan. It's also called The Pink City as most of the buildings in the city are painted pink, as according to Rajput culture the color pink denotes hospitality.
Day 04: Jaipur
Just after the breakfast, you will be taken on an excursion to Amber Fort on Elephant back. Once was the capital of Jaipur city, it sure would give you a glimpse of the imperial era. After the excursion on your way back, you will be visiting the magnificent City Palace, Jaipur Observatory popularly known as Jantar Mantar and the flea markets of Jaipur, from where you can buy souvenirs and shop for traditional Rajasthani merchandise.
Day 05: Jaipur - Pushkar
You will be driven 150 kms to Pushkar, which is an important pilgrimage in Hindu mythology. With its Holy Lake and many bathing Ghats and temples, Pushkar is a religious and colorful place. For first-time tourists, don't miss the unique Cattle Fair, when the town is thronged with tribal people from all over Rajasthan, pilgrims from all over India, film makers, photographers and tourists from all over the world.
Day 06: Pushkar - Bikaner
From Pushkar, you'll be driven 260 kms through the desert of Thar to Bikaner. On your way to Bikaner, you'll see Camel Caravans, Sheep-Flocks, shepherds and nomads; in simple words on your way to Bikaner you will witness, the true essence of Rajasthan. You will visit a number of interesting places namely the Rat Temple of Deshnok where rats are worshipped and The Fort of Junagarh.
Day 07: Bikaner - Jaisalmer
On day seven, you will be driven from Bikaner to Jaisalmer which is further 330 kms away. Situated at the heart of Thar Desert, Jaisalmer is one of the last princely bastions in the region. You'll visit the grand and magnificent Jaisalmer Fort, Jain Temple built in 1156 AD and havelis which are celebrated for the architecture and art on their walls and ceilings.
Day 08: Jaisalmer
You'll be taken to the exciting camel safari on the sand dunes of Jaisalmer. It is one of the most popular tourist activities in this region of Rajasthan, as visitors get an opportunity to live a lifetime dream. The ecstatic beauty of the sandy stretches, the adventure of riding on camels and the joy of being a part of an authentic tribal setting is sure to enliven your spirits and make the whole experience a distinctive one.
Day 09: Jaisalmer - Jodhpur
You will be driven 320 kms from Jaisalmer to the city of Jodhpur, one of the most distinctive princely states of Rajasthan. You will be visiting the princely Mehrangarh Fort founded in 1459. Later, you would be taken to Jaswant Thada. Additionally, you would also get a chance to explore the Mahamandir.
Day 10: Jodhpur - Udaipur
Day tenth begins with undertaking a journey of 290 kms from Jodhpur towards Udaipur, the City of Lakes. En route to Udaipur you will be visiting Ranakpur Jain Temple. Udaipur is popularly known as The City of lakes and described as the most romantic city of India with its emerald lakes.
Day 11: Udaipur
Udaipur is full of natural and architectural wonders and hence is one of the major tourist destinations of Rajasthan. You'll be visiting the fabulous City Palace, Jagdish Temple, Sahelion Ki Bari, the gardens of the maids-of-honour, Pratap Memorial, Fatehsagar and Lake Pichola which is famous for its scenic beauty as well as the number of species of fauna that have made this lake their natural habitat.
Day 12: Udaipur - Ahmedabad
You'll be driven 265 kms from the previous destination to Ahmedabad, which retains its highly distinctive feel born out of a long and continuously evolving social history and architecture. You'll be visiting Jama Masjid, Sidi Sayed Mosque, Ahmad Shah Mosque and Bibi ka Masjid. Each of structures is magnificent in its own right and built in Indo-Saracenic architectural style. Later during the day you'll be taken to Sabarmati Ashram which was the former residence of Mahatma Gandhi.
Day 13: Ahmedabad - Palitana
You'll be driven to Palitana which is 220 kms away from Ahmedabad. Upon reaching, you would be taken to a hotel wherein you can relax. This would be a rest day. Palitana is famous for its ancient temples. Most popular temple among other temples is Jain temples complex on Shatrunjaya Hill, dating back to 11th to 20th century. The temples are famous for the fabulous architecture as well as the decorum followed by the residents of these temples.
Day 14: Palitana - Diu
Early in the morning, you will visit temple complex on Shatrunjaya Hill. You will witness the morning religious rituals which are performed by the followers at the temple premises. Later in the day you'll be driven to Diu which is 160 kms away and was formerly a Portuguese township so its life has certain flavor of Indo-Portugal culture. You'll spend the night at a beach hotel.
Day 15: Diu - Somnath - Sasan
You'll be driven 180 kms away from Diu to Somnath Temple, which is one of the major Shiva shrines in India. There is a vast history behind this temple. It was destroyed seven times and plundered by different people, but it was rebuilt every time. After visiting the Somnath Temple, you'll travel further to Sasan.
Day 16: Sasan - Gondal
In the morning you'll be taken to Sasan Gir Forest where rare species of Asiatic Lion are preserved. Other wild animals can easily be spotted at early morning, few of them being bear, antelope, hyena, fox, blue bull, black buck and other species of deer family. You will be driven further to Gondal, which is 150 kms away, on an overnight drive.
Day 17: Gondal - Bhuj
You'll be driven 230 kms to Bhuj, which is popularly known as Gateway to Kutch. It's popular because of its architecture as the streets of this city are like maze. It entices travelers by its colorful culture; flea markets, colorful tribes and warm hospitality. You'll be amazed to witness camel pulled carts in the markets.
Day 18: Bhuj
Bhuj is famous for its handicrafts and its traditional hand made silver jewelry and wares. On this day, you'll be visiting the museums displaying the traditional pieces of art and weaponry. You'll also visit the tribal villages where you will find small tribal huts beautifully decorated with paintings and patterns made by chalk and other natural things.
Day 19: Bhuj - Mumbai
After having close look at Indian traditions and native art forms, you will board a flight to one of the major metropolitan cities of India, Mumbai. Formerly known as Bombay, Mumbai is the financial hub of the country and an extremely important tourist destination. Dotted with beaches, important historical sites and contemporary avenues, the city is always buzzing with life and liveliness.
Day 20: Mumbai
As soon as you reach Mumbai, a drive will be arranged to the international airport from where you can board a flight to your respective destinations.