Royal Rajathan tour offers a glimpse of the rich history of Rajasthan.
Royal Rajasthan Tour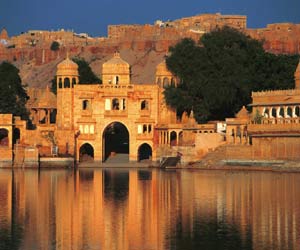 Destination:
Delhi - Agra - Fatehpur Sikri - Bharatpur - Karauli - Sawai Madhopur - Jaipur - Pushkar - Udaipur - Mt. Abu - Jodhpur - Jaisalmer - Bikaner - Nawalgarh
Duration:
20 Days/ 19 Nights
Day 01: Delhi
On arrival at Delhi, our representatives will welcome you in traditional Indian style, after which you'll be driven to a hotel where you can relax for a while. Thereafter, get ready for you would be visiting various places of tourist interest in Old & New Delhi like the majestic Red Fort, Jama Masjid which is India's oldest mosque, Shanti Van which is a memorial of Jawaharlal Nehru, Humayun's Tomb, President House, India Gate and Qutub Minar. Immerse yourself in the glorious past of the country as you explore each of them.
Day 02: Delhi - Agra
You'll be driven to Agra and on the way to Agra you will visit Sikandara which is Emperor Akbar's mausoleum, as much famous for its architectural splendor as it is for its painting and engravings on the walls and ceilings. After arrival at Agra, you'll be straight away taken to the tomb of Itmad-ud-Daulah, who was the father-in-law of Emperor Jahangir. Later, you'll visit the exotic Taj Mahal, which till date is an eternal symbol of everlasting love, built by Shah Jahan in memory of his wife Mumtaj Mahal. One can notice the change in color of the monument at different times during the day. During sunrise it reflects a pinkish hue, during noon it shines milky white and by the arrival of the dusk, it glows classic golden.
Day 03: Agra - Fatehpur Sikri - Bharatpur
You'll be driven to the city of Fatehpur Sikri, which is a small city built with sandstone and has different buildings such as Diwan-E-Am and Mausoleum of Saleem Chishti, both of which boast of beautiful architecture, along with unparalleled art work on ceiling and walls. The next destination will be Bharatpur Bird Sanctuary and Kaldeo Ghana National Park, which serves as a habitat for 415 species of resident and migratory birds. You'll be visiting the sanctuary on man-driven rickshaw. Afterwards, you'll be taken to a heritage hotel for overnight stay.
Day 04: Bharatpur - Karauli
You'll be driven to Karauli which is a quaint township founded in 1348. You can enjoy the serene atmosphere here and afterwards, you'll visit Kaila Devi Temple and City Palace, which are the two major tourist attractions of this place. For overnight stay, you'll be accommodated at a heritage hotel named Banwar Niwas Palace.
Day 05: Karauli - Sawai Madhopur
You'll further be driven to Sawai Madhopur National Park which is spread over 400 sq kms. The national park is famous as it serves as a natural habitat for a number of species of fauna, tigers being of prime interest. Deers, sambars, cheetal, blue bull etc. are a few other animals found easily at Sawai Madhopur National Park.
Day 06: Sawai Madhopur - Jaipur
On day six, you'll be driven 167 kms away from previous destination towards the next destination, Jaipur, popularly known as the Pink City. In Rajput culture, the color pink is traditionally associated with hospitality, which explains as to why the buildings in Jaipur are painted in pink, and therefore the name. As Jaipur is located at the edge of the Great Indian Desert, it serves as the gateway to royal state of Rajasthan. This would be a rest day. So, post arrival, you can retreat back in your hotel room and enjoy a relaxed evening or venture out and feel the spirit of the city.
Day 07: Jaipur
After a sumptuous breakfast, you will be taken on an excursion to the Amber Fort on elephant back exactly like the way emperors visited the Fort, which once upon a time served as the capital of Jaipur state. On your way back from Amber Fort, you will visit the magnificent City Palace, the Observatory popularly known as Jantar Mantar and local flea markets. Revel in the regal ambience and enjoy the stately and ceremonial environ.
Day 08: Jaipur - Pushkar
You'll be driven to Pushkar which is 140 kms away from the previous destination. A Hindu pilgrimage centre, Pushkar experiences huge footfall all through the year mainly due the presence of the Holy Lake, numerous bathing ghats and temples. The place is also popular worldwide for its unique and one-of-its-kind fair, the Cattle Fair, which is organized in no other part of India. During the Cattle Fair, Pushkar is thronged with tribal people, film makers, tourists and pilgrim from all over the world.
Day 09 - 10: Pushkar - Udaipur
Leaving Pushkar and driving forth 270 kms, you reach Udaipur, the City of Lakes. Udaipur proffers tourists with amazing places of interest. While the historic monuments quench the desire for a majestic feel, the beautiful landscape and the picturesque scenery make the trip all the more memorable. At Udaipur, you would explore City Palace, Jagdish Temple, Sahelion ki Bari the gardens of the maids-of-honour, Pratap Memorial, Fatehsagar. Furthermore, you would also visit Lake Pichola which is a famous worldwide for the pictorial vista and ample species of avifauna. Since it is difficult to watch all of that on a half day day, you would put up at Udaipur for two nights, which would give ample of time to explore all the attractions.
Day 11 - 12: Udaipur - Mt. Abu
On the eleventh day, you'll be driven to Mt. Abu which is a hill station situated 1200 mts above sea level. It is the highest peak of Aravali Range. Built around a lake and surrounded by green forested hills, Mt Abu is a far cry from the usual cities of Rajasthan. An oasis in the desert of Rajasthan, it is the only hill-station in the whole of north-west India. Upon reaching Mt Abu, you would be taken to the hotel wherein you can relax for the rest of the day. Following morning, you'll visit the much-renowned Dilwara Jain Temples. Built during eleventh and thirteenth centuries, the temple-complex attracts people all through the year. Adhar Devi Temple which is one of amongst the many in the temple complex is exceptionally unique as it is carved out of a single rock. Additionally, you would also visit Nakki Lake, which has a number of small islands.
Day 13: Mt. Abu - Jodhpur
You'll be driven 292 kms to Jodhpur, which is one of the distinctive princely states of Rajasthan. After checking-in at the hotel and settling your baggage, you'll visit Mehrangarh Fort, which was founded in 1459. Alongside, you would also explore Jaswant Thada built by Sardar Singh in1899 in memory of Maharaja Jaswant Singh.
Day 14 -15: Jodhpur - Jaisalmer
You will be driven 285 kms to visit Jaisalmer, one of the last princely bastions of Rajasthan. As soon as you will reach Jaisalmer, you'll be accommodated at a hotel for overnight stay. The next day you'll be visiting Jain temples built in 1156 AD and havelis, famous for the architecture and artwork done on the walls. Next you'll visit amazingly beautiful Gharisagar and Amarsagar.
Day 16: Jaisalmer - Bikaner
On day sixteen of the tour, you would be driven 330 kms to Bikaner where our representative will receive you and help you check-in at the hotel room. Post some rest, you will visit Junagarh Fort, a famous castle that acts as the centre point for the city. Later on during the day, you'll visit Ganga Golden Jubilee Museum.
Day 17: Bikaner
Day seventeen is reserved specifically to Bikaner. Post a luscious breakfast, you would be taken to a camel breeding farm, followed by a trip to the old city where you will visit the tranquil Jain temples. In the evening, you'll be taken to Deshnok temple. Unique and distinctive, unlike other temples in India, this temple worships rats instead of the idols of Gods and Goddesses. Spotting a white rat is considered lucky. So, keep your eyes wide open and treat the animal with all the benevolence.
Day 18: Bikaner - Nawalgarh
You'll be driven 215 kms from Bikaner to Nawalgarh, which is famous for the traditional art and architecture. You'll visit the havelis which are a part of the Shekhavati. The ceilings walls and roofs of these Havelis are painted with traditional designs and patterns. Popularly known as the Open Air Art Galleries of Rajasthan, these Havelis are hand painted with vegitable and stone colors and flaunt incredible beauty and exquisiteness.
Day 19: Nawalgarh - Delhi
You will be driven to Delhi which is 240 kms away from Navalgarh. You will be welcomed in an ethnic and traditional style by our staff at Delhi. This is a rest day. So, you can either retreat at your hotel room or enjoy the spirit of the city by walking past the commercial centers.
Day 20: Delhi (Departure)
You will be escorted to the international airport by our representatives, so that you can catch a flight to respective destinations.