This package has been designed specially for those travelers who want to have a glimpse of the Taj Mahal and the surrounding attractions.
One Day Taj Mahal Tour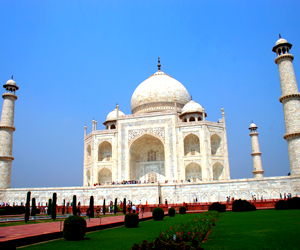 Take a trip to one of the Wonders of the World - the glorious and astonishing Taj Mahal, on this one day tour from Delhi. Appreciate the magnificent architecture and outstanding tradition and culture of the Mughal period. Apart from the elegant Taj Mahal, you will also see the imposing Agra Fort and other nearby attractions.
Highlights:
Travel in a private air-conditioned car, accompanied by a driver and a multilingual tour guide.
Seeing the Taj Mahal at sunrise is, indeed a mesmerizing and inimitable experience of a life-time.
Witness the majestic grandeur of Mughals by visiting Red Fort and the exquisite Tomb of Akbar at Sikandra.
Your full-day tour will begin from Delhi Airport. You will be picked up by our driver in an air-conditioned car and you will be driven towards Agra, the city of the Taj Mahal. It is a 4-hour drive to Agra, where you will have an enlivening morning view of the monument.
Soak in the charismatic beauty of the Taj Mahal, glowing amidst the orange rays of early morning sun. Built by Emperor Shah Jahan in memory of his beloved wife Mumtaz Mahal, the Taj Mahal is crafted in pure marble and adorned with semi-precious stones, which delineate the exquisiteness and elegance of the Mughal architecture. You will be well informed about this UNESCO World Heritage Site by your guide.
Later, you will head towards another UNESCO World Heritage Site in Agra i.e. Agra Fort. Located close to the Taj Mahal, this red sandstone fort, also known as Red Fort, is a remarkable creation of Mughal era and sports a grand architecture, intricate design and four huge gates.
After having a short break for relaxation and lunch, you will go for a visit to the Tomb of Akbar the Great. Situated in Sikandra, the tomb is another significant masterpiece of Mughal Architecture. Thereafter, you will be driven back to Delhi for your onward journey.
Note:
Taj Mahal is closed on Friday.