This package offers visits to many other important tourist attractions apart from the magnificent Taj Mahal.
Two Day Taj Mahal Tour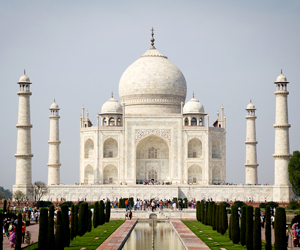 Two days Taj Mahal tour is designed for those who want to discover and witness the picturesque exquisiteness of one of the Seven Wonders of the World - the Taj Mahal, in detail. Agra, with its marvelous architectures, monuments and UNESCO World Heritage sites including Taj Mahal, Agra Fort and Fatehpur Sikri, represents the glorious period Mughal Empire. This 2-day guided tour will be your chance to explore the various magnificent structures built during the Mughal rule.
Highlights
Explore the splendid Mughal architectural masterpieces when you visit three UNESCO World Heritage sites of Agra – the Taj Mahal, Agra Fort, and Fatehpur Sikri.
Visit the Tomb of Akabar the Great to enrich your experience about the culture and tradition of the Mughal Empire.
Relish your superb trip to the city with your experienced and friendly tour guide.
Day 1: Delhi - Agra
Upon your arrival at Delhi Airport, you will be greeted by our representative. You will be taken for a four-hour drive towards your destination city, Agra. Agra is home to three UNESCO World Heritage sites: Agra Fort, Fatehpur Sikri and the Taj Mahal. Upon your arrival, you will visit the Tomb of Akbar the Great, at Sikandra. This mausoleum of the third Mughal emperor, is a superb example of Mughal architecture - built with a perfect blend of red stone, white marble and panel designs. Later, you will check-in the hotel for some refreshments and brief rest. Thereafter, you will visit the Agra Fort - a 16th-century red-sandstone fortress with works of marble and pietra dura decor. Here, you will explore Pearl Mosque or Moti Masjid, Diwan-e-Am, Diwan-e-Khas, Jahangir's Palace, Shish Mahal, etc.
After the excursion of Agra Fort, it is a time to enjoy delicious Mughal cuisine in a popular restaurant to be chosen by you. After having lip-smacking food, you will visit the great Wonder of the World - the Taj Mahal. The white marble mausoleum, built by the Emperor Shah Jahan in memory of his adoring wife Mumtaz Mahal, is a wonderful paradigm of love. Being an elegant monument, it blends style and elements of Islamic, Persian, Ottoman Turkish and Indian architecture. Evening is for exploring Meena Bazaar, a large shopping paradise where you will find craft items, jewelry, marble figurines and more articles. Day tour will end at your hotel with scrumptious dinner. Overnight stay will be at Agra hotel.
Day 2: Agra - Delhi
After breakfast, your visit to Fatehpur Sikri (the City of Victory) will begin. It was capital of the Mughal Empire for a few years and is one of the finest symbols of the Muhgal, Hindu and Jain architecture. While traveling around the inner citadel of the city, you will explore some of the finest monuments including Buland Darwaza, Jama Masjid, Tomb of Salim Chishti, Panch Mahal, Naubat Khana, etc. Later, you will drive back to Delhi for your onward journey.