Desert and ganga tour covers the spiritual city of Rishikesh, Agra and exotic locations of Rajasthan.
Tajmahal & Desert Tour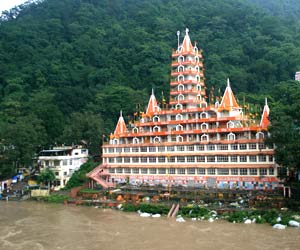 Destination:
Delhi - Rishikesh - Corbett - Mandawa - Bikaner - Jaisalmer - Jodhpur - Udaipur - Pushkar - Jaipur - Agra
Duration:
19 Days/ 18 Nights
Day 01: Delhi
As soon as you arrive at Delhi airport you will be welcomed in traditional Indian style by our representatives. You'll be driven to a hotel where you can relax for a while, after which you will be taken on a combined tour of Old & New Delhi. You'll visit a number of interesting places such as Red Fort, Jama Masjid, Shanti Van, Raj Ghat, Humayun Tomb, Qutab Minar and pass through India Gate and the architectural buildings of President House, and Parliament.
Day 02: Delhi - Rishikesh
You'll be driven to Rishikesh which is 230 kms away from Delhi. Situated at the banks of River Ganga, it is known as much for its scenic beauty as it is famous for its spiritual importance in Hindu Mythology. As you reach Rishikesh, you'll be escorted to a hotel where you can relax and stay overnight.
Day 03: Rishikesh
Day three would be reserved for exploring the various beautiful places in Rishikesh. You will witness the scenic and heavenly beauty of this place. There are a number of waterfalls and small ponds, along with cliffs and valleys that you'll be taken to. Additionally, you would also be taken to Haridwar sited 24 kms from Rishikesh. At the evening, you will witness the spiritual and detoxifying river Ganges. You'll visit the Ganges during the evening aarti where people pray and chant Mantras in praise of the river Ganges.
Day 04: Rishikesh - Corbett
You'll be driven to Corbett National Park situated 180 kms away from Rishikesh. The Corbett National Park is one of India's largest and most popular reserves. The park is full of rare and common flora as well as fauna such as elephant, tiger, panther, sambhar, blue bull hyena etc. You'll be staying at a lodge at the Corbett National Park.
Day 05: Corbett
Game viewing, bush-walks, safari ride provide you an unforgettable Indian jungle experience on day five at Corbett. You'll be taken on a safari in search of wild animals, especially tigers. Though the park is famous for its stable population of tigers, apart from tigers, it also serves as the home of other rare species of fauna. Additionally, the spectacular and captivating natural glory of Corbett is sure to bowl you over.
Day 06: Corbett - Delhi
You'll be driven to Delhi which is 275 kms away from Corbett National Park. As soon as you reach Delhi, you'll be received by our representatives who, in turn, would help you check-in at a hotel where you can rest for the day. You can visit the nearby markets for shopping or can enjoy the leisure time at the hotel.
Day 07: Delhi - Mandawa
You'll be driven to Mandawa which is situated 240 kms away from Delhi. Mandwa is situated in the deserts of Rajasthan and is famous for the tasteful architecture. Upon arrival, you'll be checked-in at a hotel and thereafter, our representatives would take you on a tour of the castles and havelis dating back to 18th century. Immerse yourself in the history as you witness the beautifully painted walls and frescoes.
Day 08: Mandawa - Bikaner
You'll be driven through the Thar Desert to the next destination which is Bikaner. On your way to Bikaner, you are sure to pass through a number of camel caravans, sheep flocks, shepherds and nomads. In simple words, you'll get to see the soul of Rajasthan in its true sense. Upon reaching Bikaner, be prepared to explore a number of places namely Bikaner Palace, the Fort and most popular the Karni Mata temple or the Rat Temple. Thereafter, relax yourself. Indulge in a Rajasthani dinner and bid goodbye to the day as you rest at the cozy rooms.
Day 09: Bikaner - Jaisalmer
Your next destination will be Jaisalmer, situated at the heart of the Thar Desert. It is one of the last princely bastions in the region and is situated 330 kms from Bikaner. At Jaisalmer, you will visit the Jain Temples built in 1156 AD, Havelis and town-mansions celebrated for their architecture and the beautiful Gharisagar & Amarsagar.
Day 10: Jaisalmer
Day tenth is sure to be etched in your mind forever, as you get a chance to revel in a one-of-its-kind experience. You'll be taken on a day long camel safari during which you will explore the picturesque sand dunes of Jaisalmer. Sand dunes are one of the most amazing natural phenomenons. It is one of the most popular activity tourists indulge in and you'll get an opportunity to watch how sand dunes are formed and how do they continuously change forms.
Day 11: Jaisalmer - Jodhpur
You'll be driven to Jodhpur which is situated 320 kms away from Jaisalmer. One of the most distinctive princely states of Rajasthan, Jodhpur promises to add on to the royal experience. Post checking-in at a hotel, you will be taken on sightseeing tour visiting Mehrangarh Fort. Founded in 1459, it stands hundred feet above the skyline of Jodhpur city. Along with that, you will also get a chance to visit Jaswant Thada and Mahamandir.
Day 12: Jodhpur - Udaipur
A drive of 290 kms from Jodhpur would take you to the city of Udaipur, popularly known as City of Lakes. As soon as you reach Udaipur, our representatives will help you check-in at a hotel where you will stay for the rest of the day. This is a rest day. So, recharge and revitalize yourself as there is a lot more to explore than what you have already explored.
Day 13: Udaipur
You will be visiting a number of places of tourist interest in Udaipur starting from the City Palace, then moving to Jagdish Temple, Sahelion Ki Bari, the gardens of the maids-of-honour, Pratap Memorial, Fatehsagar and Lake Pichola. The lakes in Udaipur are full of picturesque sceneries and also serve as a natural habitat for the native fauna as well as migratory avifauna.
Day 14: Udaipur - Pushkar
You will be driven to Pushkar which is situated 270 kms away from Udaipur. Pushkar is an important pilgrimage in Hindu mythology. It is a Hindu pilgrimage with a Holy Lake around. Pushkar is also popular for its Cattle Fair, which is organized in no other part of India. During the Cattle Fair, Pushkar is thronged with tribal people, film makers, tourists and pilgrim from all over the world.
Day 15: Pushkar - Jaipur
In the morning, you will visit bathing ghats surrounding the lake after which you'll be taken to the Brahma Temple, the only temple of Lord Brahma in India. Later during the day you'll be driven to Jaipur the Pink City of India. Jaipur is located at the edge of the Great Indian Desert and hence, serves as the gateway to Rajasthan.
Day 16: Jaipur
You'll be taken on an excursion to the Amber Fort, which once upon a time served as the capital of Jaipur state. On your way back from Amber Fort you will visit the magnificent City Palace, the Observatory popularly known as Jantar Mantar which was built by Raja Jaichand. At the end of the day, you can visit local flea markets from where you can buy souvenirs for your friends and family.
Day 17: Jaipur - Agra
You'll be driven to Agra which is situated 240 kms away from Jaipur. En route, you would also get an opportunity to visit the city of Fatehpur Sikri, made entirely from sandstones. Fatehpur Sikri has a number of buildings like Mausoleum of Salim Chisti, Diwan-e-Am etc. Upon reaching Agra, you can relax and enjoy the tranquil atmosphere of the hotel
Day 18: Agra - Delhi
Eighteenth morning would forward you an enriching experience as you visit the Taj Mahal, one of the Seven Wonders of the World, built using white marble, by Shah Jahan in the memory of his beloved wife Mumtaj Mahal; it stands as a tribute to eternal love. Further, you will also be visiting Agra Fort and the Itmad-Ud-Daula's Tomb which are famous for the beautiful murals and state-of-art architecture. Later in the day, you'll be driven to Delhi which is 210 kms away from Agra. While en route to Delhi, you'll visit one more monument in Agra the Sikandara Fort which is a splendid mausoleum of Emperor Akbar.
Day 19: Delhi
On the last day of the tour, you will be driven straight to the international airport where our executives will help you board the flight to your respective destinations.