Heritage Rajasthan tour showcases the rich cultural heritage of Delhi, Agra and Rajasthan.
Rajasthan Heritage Tour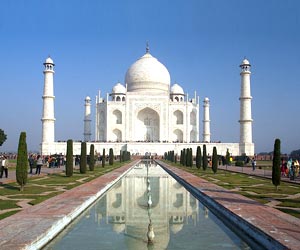 Destinations:
Delhi - Agra - Bharatpur - Kanota - Jaipur - Deogarh - Udaipur - Kumbalgarh - Ghanerao - Jodhpur - Jaisalmer - Bikaner - Nawalgarh - Delhi
Duration:
14 Nights/ 15 Days
Day 1: Delhi
On arrival at Delhi you would be received in traditional Rajasthani style by our representatives, who would drive you straight to the hotel. After some rest, would begin your excursion. The schedule for day one would include exploring places of tourist interest in Old and New Delhi. The tour starts with a visit to majestic Red Fort, followed by a visit to Jama Masjid, Shanti Vana, Humayun's Tomb and President House. Soon after that you'll be driven away to visit India Gate which is the war memorial for Indian soldiers. Finally, at the end of the tour you will be taken to Qutub Minar.
Day 2: Delhi - Agra - Bharatpur
Next morning you board Shatabdi Express, the fastest train in India, which would take you to Agra in just two hours. Upon arrival at Agra you'll be taken to Itmad-ud-Daula's Tomb. Next would be the visit to one of the Seven Wonders of the World, the immaculate Taj Mahal, a memoir of eternal love, built by Shah Jahan in memory of his beloved wife Mumtaj Mahal.
Later in the day, you would drive down further 75 kms to Bharatpur Bird Sanctuary. The place is home to 230 species of different colorful birds. En route, you would also pass through the beautiful city of Fatehpur Sikri. Crafted entirely from sand stone, the prime place of interest here is Akbar's mausoleum. Once you have explored the Bharatpur Bird Sanctuary, you would be accommodated in a heritage hotel. Feel the splendor of the royalties as your rest your tired nerves!
Day 3: Bharatpur
Day three would be both exciting and adventurous. You would be taken to Keoladeo Ghana National Park on man-driven tricycles. According to statistics, the national park provides shelter to 380 resident and migratory species of birds which includes common species like Demoiselle and rare species like Siberian cranes. Out of this 117 species of birds migrate from as far as Siberia and China. It also provides shelter to various species of fauna like hyena, sambar, fishing cat etc.
Day 4: Bharatpur - Kanota
You would be driven to hotel Royal Castle in Kanota which is 190 kms from the previous destination. At the hotel, you can enjoy the tranquil environment and traditional Rajasthani setting. Each room has royal furniture and portraits of maharajas which enhances the feeling of royalty. Since there are no major activities planned for the day, you can wile your time out by picking up souvenirs for your friends and family members, as Kanota proffers some great shopping markets.
Day 5: Kanota - Jaipur - Kanota
A 19 kms drive would take you to the Pink City of India, Jaipur on day five. The city has been tagged so because it is filled with pink buildings. Located at the edge of the Great Indian Desert, it serves as a gateway to Rajastan. In Jaipur, explore the City Palace which is the gem of Rajput architecture and a major tourist attraction of the city. Next in line is the Jaipur Observatory, popularly known as "Jantar Mantar", followed by a visit to Hawa Mahal and local bazaars. At noon, you'll make an excursion to Amber Fort. Get a taste of the royal life and imperial era as you explore the Fort at the back of the elephant. At night, you would be driven back to Kanota for an overnight stay.
Day 6: Kanota - Deogarh
As day six begins, you leave for Deogarh, a rugged countryside situated at side of Aravali Hills, 295 km drive away. Deogarh has a number of natural lakes which enhance its scenic beauty and also serves as a habitat for a number of species of migratory birds. At the end of the day, you check-in at a heritage hotel. Enjoy the majestic and stately environment as you rest for the night.
Day 7: Deogarh - Udaipur
Day seven begins with the journey to Udaipur, City of Lakes, which is 150 kms away from Deogarh. Upon arrival, you would be taken to a heritage hotel, where you would be welcomed in the traditional Rajasthani style. Since this is the rest day, you can devote your time and take pleasure in the stunning and striking setting of the place. Devour upon the exotic Rajasthani food and rejuvenate your tired nerves for an exciting day ahead.
Day 8: Udaipur
Udaipur is one of the most exotic cities of the Rajasthan, more so beautiful for the numerous attractions it offers. The day would begin with the visit to City Palace, much famous for its historical importance as it is for its architectural magnificence. Thereafter, you'll be taken to Jagdish Temple, the picturesque Sahelion ki Bari, the gardens of Maids-of-Honor and Pratap Memorial which is dedicated to famous Rajput Warrior Maharana Pratap. Additionally, you would also tour the Fatehsagar and Lake Pichola.
Day 9: Udaipur - Kumbalgarh - Ghanerao
On the ninth day of the excursion trip, you would head straight towards Ghanerao sited 90 kms away from Udaipur, much renowned for its Hindu and Jain temples. The road trip will be enroute the Kumbhalgarh Fort, a fortress built by Rana Kumbh in fifteenth century. To get that feel of majestic and imperial age, an overnight stay at Ghanerao Castle awaits you. Located on the far unspoiled corner of Rajasthan, it aims to be an ideal place to stay for travelers who are in search of tranquility.
Day 10: Ghanerao - Jodhpur
From Ghanerao Castle, you'll be driven to Jodhpur which is 110 kms away. Jodhpur is distinctively most princely state of Rajasthan. After you check into the heritage hotel, you'll be further taken to the majestic Mehrangarh Fort, founded in 1459 situated 400 ft above the city. It is one of the largest forts in India. Further, you'll visit Jaswant thada and Mahamandir.
Day 11: Jodhpur - Jaisalmer
Situated at the heart of Thar Desert is the city of Jaisalmer, one of the last princely bastions left in the region. Since the first half of the day would be spent on traveling, exploration of Jaisalmer would begin only after the noon. In terms of sightseeing, Jaisalmer offers numerous places of tourist interest like Jain Temples built in 1156 AD, Havelis and Mansions much celebrated for their architecture, Gharisagar and Amarsagar. At night, you can recline at the heritage hotel and enjoy the royalties.
Day 12: Jaisalmer - Bikaner
Day 12 embarks with a long journey to Bikaner which is 330 kms away. Post checking in the hotel, you'll be taken to the Junagarh Fort, which is one of the strongest forts in Rajasthan. Thereafter, you'll visit a number of interesting places like Ganga Golden Jubilee Museum, camel breeding farms and in the end you will be taken to Deshnok Temple. An interesting fact about the temple is that it is dedicated to "rats" which are considered sacred creatures and are worshipped.
Day 13: Bikaner - Nawalgarh
From Bikaner you'll be driven to Nawalgarh which is 215 kms away. After some rest, you'll be taken to Mandwa which is famous for its ethnic havelis. An interesting piece of information is that some havelis here belong to early eighteenth century Rajput landlords. The ceilings and walls of these havelis have been engraved and hand painted with vegetable and stone colors. These havelis are ornate with such extraordinary artwork that people refer to them as open-air Art Galleries of Rajasthan. For overnight stay, you'll be accommodated at either Roop Niwas or Mandwa Castle.
Day 14: NAWALGARH - DELHI
Day 14, you would head towards Delhi, covering about 240m kms. Upon reaching Delhi, you would be you'll be received by our representatives with traditional Indian pomp and show. At the hotel, you can relax yourself and unwind those tired nerves of yours
Day 15: Delhi
Early next morning, you would be driven to the international airport from where you can take flights to your respective destinations.